Zanox shares its top position of affiliate program networks with Affilinet in Germany, with Tradedoubler in Europe and with CJ in the USA. However, there seems to be little global competition and Zanox's international ambition is still big: Zanox is located in more than 20 countries, for example in Shanghai, China. Affiliate.de founder Stefan Zwanzger met Thomas Hessler, co-founder and CEO of Zanox, in February 2006 in Hong Kong for a long interview.
Topics like Zanox's global expansion, the importance of support and usability for affiliates, the competition with AdSense and other networks, the future of Affiliate Marketing, the best affiliate programs and how to recognise them, have been discussed. In this interview we revealed a lot of very interesting statements, conversion rate wonders and tricks for affiliates. You simply have to read this!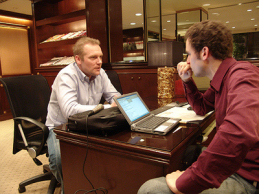 Stefan Zwanzger, founder and managing director of Affiliate.de went to Hongkong to meet Thomas Hessler.
We wanted to know about the future prospects of globalising Zanox and its impact on affiliates.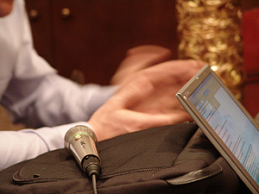 Affiliate.de (Stefan Zwanzger):
I have been asking myself for five years now: What does the company name "Zanox" stand for?
Thomas Hessler (Zanox):
The name has actually no deeper meaning. It is just something artificially created. We wanted to have something with a typical cyber name, something we could use world-wide without any trademark limitations etc., since we had the idea to go international with Zanox from the first day. Moreover, the name had to be short and easy to remember. But we also wanted it to be a little bit complicated. We looked at all the successful Internet companies and their names, at this time Yahoo, Excite and all those which were named similarly. Very remarkable was that the names were all difficult or that they had unusual letter combinations. At this time every new founder wanted to have a name starting with the letter "A" to be found at the first position in alphabetical registrations. However, at the top were already those clever guys which used names like "AAA-Implantate". That was why we deliberately decided to go for the end of the alphabet and chose "Zanox". After searching world-wide for name and brand rights, we came up with the result that for "Zanox" there was not one single registration found in any search engine. That was when the name became real.
Affiliate.de:
Zanox considers itself a "Multichannel Commerce" company by now, which gives the impression that Affiliate Marketing would only remain a fraction. Affiliates ask themselves, if Zanox is still able to look after them, or if Zanox is already playing on too many parties…
Zanox:
About two years ago our orientation changed a little and we tried to provide our clients with a new strategy, which exceeds the basic roots of Affiliate Marketing. We noticed different ways and channels for marketing on the Internet, which are working and are actually demanded by customers. That way "Multichannel Commerce" arose. Affiliate Marketing is indeed only one discipline. We prefer to use the term "Partner-Relationship-Management" for the management of cooperations in every form. Affiliate programs definitely count to this, but sometimes it has less to do with classical Affiliate Marketing. The service, which we render for every affiliate in the network, didn't suffer under the change, it is more the opposite! Two years ago, we improved our premium service. Even today we work permanently on the improvement and expansion of our service. This year, we want to offer a 24h service, 7 days a week.
Affiliate.de:
Over the phone? Does that mean the affiliate would be able to call on a Saturday evening at 11pm and ask: "I need product data of provider no.10 and furthermore I have got problems to understand the input…"?
Zanox:
Yes, that would be possible. We already offer this kind of service, at least from 6 am to 22 pm during the week. For Germany that is surely a comfortable time, but in terms of the more and more global business of our affiliates in the future we are focused on being available 7 days a week, every minute a day.
Affiliate.de:
Are Chinese people going to pick up the phones then?
Zanox:
Certainly there will be one or more Chinese attending the phones, but we want to provide our service in a way that it is useable for people in every market. We are going to have staff from every nation, so that they are able to attend affiliates and SEOs in their own native language.
Affiliate.de:
China is an important topic for Zanox at the moment. You have Chinese investors, who went in with your company about a year ago, with a two digit million sum. Who was that in particular? There is nothing mentioned about that on your website.
Zanox:
It is deliberately not available. It was not a Chinese but an Asian investment group. We are not allowed to pronounce their names, as it is the investors' wish to stay anonymous.
Affiliate.de:
And the same investment group now holds 49% of the ZANOX.de AG?
Zanox:
No, they don't hold that much.
Affiliate.de:
So the majority of Zanox shares is still owned by the three founders?
Zanox:
Yes, exactly. And owned by some of the staff.
Affiliate.de:
We are sitting here in Hong Kong, Zanox has one office in Shanghai, one in Chicago. You are diligent on your expansion. Do you have world power desires with Affiliate Marketing?
Zanox:
We definitely claim to be the first Global Player on this market.
Affiliate.de:
"Be" or "Want to be"? It's not Commission Junction?
Zanox:
"We are"! No, it is not Commission Junction. They are an American player for us, who is taking its first steps in Europe now. They certainly have their ambitions, but it will still take some time until they can manage to build up something adequate. By the way, CJ also pursues our idea of Multichannel Commerce now. All serious suppliers pursue this idea by now and try to provide an integrated concept. But none of our competitors is able to provide an integrated solution as good as ours, these days: A system, a surface, a consolidated tracking. All they can provide are imperfect works, tools which neither are fully integrated, nor do they work in multiple languages, different to the one of Zanox.
Affiliate.de:
You say that your strength lies in your system, which is fully integrated, is that right?
Zanox:
Exactly. All the other enterprises have usually bought functions and features from third parties. They bought companies, which were in the particular market. The integration of these bought solutions will take its time… if it is possible at all to connect those systems perfectly with each other.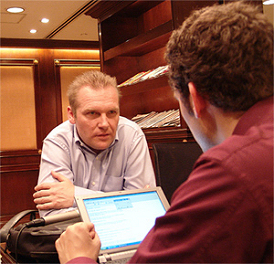 "We definitely claim to be the first global player on this market."
Affiliate.de:
Zanox is technically the best developed Affiliate Network?
Zanox:
Yes.
Affiliate.de:
And you would sign that? Would anybody of Affilinet in Germany sign that too?
Zanox:
If we stayed with the term "Affiliate Network" then maybe not. But the idea of "Multichannel Commerce" is the decisive point!
Affiliate.de:
Affiliate Marketing in combination with SEO and keyword advertising is considered as one of the most powerful and most intelligent eCommerce activities. Is it still your supporting leg, despite "Multichannel"?
Zanox:
Yes, absolutely!
Affiliate.de:
What does "Multichannel Commerce" precisely mean?
Zanox:
Basically our Multichannel approach consists of five components. One of those is PRM (Partner Relationship Management) with which we connect the management of any kind of cooperation, i.e. also the Affiliate Management. The second component consists of "Zanox Mail@", an email recommendation system, with which you can announce product and service recommendations, virtually to attract and refer clients.
Affiliate.de:
Ok, but I would describe "clients refer clients" as the prototype of Affiliate Marketing. Technically it is the same; apart from the fact that the referring client has actually no homepage…
Zanox:
True, but these are established terms. Nobody would call a "clients refer clients" solution "Affiliate Marketing" and that is why we differentiate between the different aspects and keep it as a separate solution. But definitely: seen from the fundamental idea it is the same and that is where the origin of Affiliate Marketing is to be found. People always said: "I would like to recommend a book, and if this recommendation is successful, I would like to earn commission. How you call those recommendations is second-rate in the end.
Affiliate.de:
Okay, "Mail@" was the second component…
Zanox:
Exactly, the third constituent is "Zanox Shop@" as our Multichannel Sales Channel, a virtual shopping platform.
Affiliate.de:
…for affiliates to integrate on their homepages…
Zanox:
Yes, in this term also for affiliates. The fourth solution is a loyalty infrastructure with which it would be possible to create cash back systems and bonus clubs like the German Payback for example or all these shopping clubs.
Affiliate.de:
Does that mean that compensations or commissions do not go to affiliates but to the shop runner or the client. What exactly happens to the commission margin?
Zanox:
It is normally split up. One part of the commission goes as reward i.e. in the form of points to the consumer. Also the affiliate holds some part of it. The fifth solution is "Zanox Look@": our tool for search engine management!
Affiliate.de:
Search engine management means search engine marketing (Google at the right) or search engine ranking optimisation (Google on the left)?
Zanox:
Search engine marketing, but it concerns all paid search platforms. Google AdWords however is surely the leading platform at the moment.
Affiliate.de:
Jamba/Jamster is the most known Zanox affiliate program and internationalises as fast as Zanox itself. Is this your best affiliate program in the network?
Zanox:
It depends on how you look at it. Certainly Jamba is one of our best clients that goes without saying, especially as a result of its fast expansion and international approach. We now work in 20 countries, amongst others also China. Jamba/Jambster is one of the reasons why we are already active in China. Seen in term of the "weight", Jamba is one of our top clients.
Affiliate.de:
What works really good at the moment? Precisely, which programs would you recommend? The current highlights now, please!
Zanox:
To answer this question we have to have a look at the last week report, where we can see who the climber of the week is. For this, our "AdRank" system is very convenient for us to check, who the trend-setters are. This rank reflects current states like the beginning of the travel season, for example. It would not be fair to announce one supplier out of my memory, while having a perfect system for that, the AdRank system.
Affiliate.de:
Before we go into detail on AdRank, which areas work generally well at Zanox. Travel, dating, bikes, animal food? Just in general…
Zanox:
In my opinion it shows more and more that the products which are meant to be used and consumed on the Internet, are working the best at the moment. That is, the "classical" Internet products but less the classics of the direct mail selling: Products and services, which are well distributed via Internet and instantly available. Many products are now available much more comfortable via Internet and then work well via affiliate programs. Journeys and flights are by far the leader. Besides ring tones and everything around mobiles and furthermore, in general software that is available via Internet. Dating services are among those top topics, DSL products work very well and bring high commissions.
Affiliate.de:
Which was the highest conversion rate you have ever seen?
Zanox:
A product with the best conversion rate was one of ours, namely Zanox Mail@. The average conversion rates are 30%!
Affiliate.de:
30 percent?!? That means every third "click" becomes a purchase?!?
Zanox:
Yes, but I have to confine that a little: It is not the "click" to the recommendation module, but the "click" out of the recommendation mail. If somebody sends a Mail@ recommendation mail to a friend and he/she presses the link in this mail, then we get our 30 percent.
Affiliate.de:
About a year ago, Zanox established "AdRank". This is just a general indicator for how well the program works. It doesn't really give conclusion about the average earning per click or per 100 clicks (EPC) or average reversal rates. Other affiliate networks display key indicators far more precisely thus making calculation far easier, in particular if you would like to promote a program via AdWords…
Zanox:
The AdRank is a very complex system. At the moment we work with two AdRanks, one for the partner and one for the merchant. We will soon establish more. There will be an AdRank for advertising media that finally shows, which banner, link or flash animation is the best and of which merchant. It will go even this far that we give an AdRank to the products itselves. The affiliate then sees which product of which merchant has its best AdRank and how high the average possibility of selling will be. We will also equip different condition models with an AdRank. It will be extremely difficult for the user to assert if a commission model with 5 cent per click + 5% pay per sale or one with 8% per sale would be better for the affiliate. If it should get any more complex, then many will lose track of things. The AdRank is a good indicator for orientation.
Affiliate.de:
But why not show the EPC and the reversal rate? Why does the AdRank have to be so imprecisely?
Zanox:
As I said, we wanted to establish an indicator for different objects with the AdRank. We wanted a mathematical method, with which it was possible to build a ranking system, which stays related to other objects of the same category. The earning pro click is far too easy as one or the single indicator.
Affiliate.de:
But the affiliate understands a specific ratio better, especially as a calculation basis for text ads in Google AdWords.
Zanox:
It would certainly be possible to see what every partner earns per click. But this can be calculated by everybody himself. However to calculate this for the generality makes no sense because the variety is far too big as to get a sensible average.
Affiliate.de:
Why does the average make no sense?
Zanox:
For the keyword advertiser, who buys text ads in search engines, a tenth part of a percent in the conversion counts and decides if his business model works or not. If we showed him an average of a webmaster and affiliate beginner, that wouldn't be useful for him at all.
Affiliate.de:
But the average earning per click is calculated in the AdRank?
Zanox:
Yes, it is automatically included.
Affiliate.de:
Also the reversal rate?
Zanox:
Yes, that one too.
Affiliate.de:
It would already make sense to show at least the average reversal rate directly…
Zanox:
We calculated different factors in the AdRanks. We unfolded those. It is possible to see, which influence factors are on the site of the affiliate and on the site of the merchant. We also give direct tricks on how to improve the individual AdRank, for affiliates as for merchants. But we didn't publish how important the different factors are. The reversal rate actually plays a big part, as we finally want to motivate the merchants to push the quality continuously upward. Logically we have no interests in senseless traffic or high reversals. If a merchant has an extreme high reversal rate with one of his affiliates, then he should do something against that in the long run. Such factors are included in the calculation of AdRank and have a relatively high importance.
Affiliate.de:
But there will never exist a definite exposure of the lapse rate?
Zanox:
Never say never. (Laughing) But it is not thought of at the moment.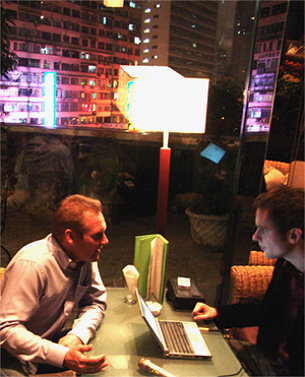 The interview went far into the night. In the background the skyscrapers of Hong Kong.
Affiliate.de:
Topic "AdRank bidding". For those who don't know it yet, or haven't understood it: What exactly is that?
Zanox:
AdRank Bidding goes definitely in the direction of the high performance affiliates. Affiliates always said to us: "We want to have more independence i.e. in terms of our negotiation possibilities and our presentation towards the merchants!" The AdRank is helpful because we mark the high performance affiliates, so they are recognisable at first sight. We wanted to offer the affiliates the possibility to negotiate with the merchant. AdRank bidding means individual commission negotiation between merchant and affiliate.
Affiliate.de:
Doesn't it stand in the way of equal opportunities? That means beginning affiliates start with a lower earning per click, a lower lead commission, a lower sale commission. From the beginning they have almost no chance to bid at Google AdWords, for example…
Zanox:
That is clearly the performance principle and that is how the market economy works, too. I have to motivate performance and I have to reward performance. That is exactly what AdRank bidding does, which is just accessible for a privileged group. Not until a certain AdRank (6 of 10) it is possible to participate in AdRank bidding and use this functionality. Before that, it makes no sense. A green beginner has to go a certain way first, before he actually becomes an equal negotiation partner. Without that, he wouldn't be able to work effectively with AdRank anyway.
Affiliate.de:
Now somebody comes to Zanox, for example a SEO. He is new in the system and sends 40,000 qualified visitors to one of your affiliate programs, who then make 800 leads or sales. Does he immediately get an AdRank 6 or does he first have to survive 3 months?
Zanox:
AdRank is a fully automated system, there is usually no manual intervention. We don't classify the persons manually after arrangement, but the system establishes the AdRank relatively fast – normally in a weekly rhythm. At the beginning the AdRank increases very fast, as soon as you start to get active in the system. If you generate a lot of traffic and sales, then you get very soon to the 5. After AdRank 5 it starts to get more difficult and with AdRank 6 the premium area starts.
Affiliate.de:
Is an AdRank 10 achievable or is it impossible?
Zanox:
Frankly, that is something I don't know, you would have to ask our mathematicians.
Affiliate.de:
If we don't talk about the actual proportion of the influence factors to each other, then we should talk at least about the influence factors itself. Which are these in precise?
Zanox:
Without claim of completeness, but out of memory: the traffic is one of the most important sizes. Thus affiliates with high traffic can easily communicate this to merchants by their AdRank.
Affiliate.de:
That was now the presentation of the affiliate to the merchant. What does the affiliate gets to know about the individual merchant respectively about the affiliate program?
Zanox:
Parameters are the confirmed number of sales and leads of an affiliate program corrected by reversals, the conversion rate, the absolute amount of paid commissions, the number of admitted relationships. It is amazing how much you can assess with only a few parameters.
Affiliate.de:
Many affiliate networks have exactly the same merchants and affiliate programs to offer to affiliates and also the same affiliates in their database. What is the USP (unique selling proposition) of Zanox in your opinion?
Zanox:
By now we have several USPs, which no other network can offer and which in the end get more and more important for the market participants. We see that our high performance affiliates are now all global players. Even affiliates, who started small at the beginning, go over to internationalise their businesses. In my opinion this is a trend in the Internet, anyway. The one who found a good business model can immediately begin to grow, to scale, at best when he internationalises his system or concept.
Affiliate.de:
So the trick then is to promote Jamba Poland right from the beginning via AdWords Poland, when before Jamba Germany worked well, for example?
Zanox:
Absolutely! Immediately! It is so easy!
Affiliate.de:
That is what you would recommend: "Affiliates, sit down and do AdWords also in other countries, where everything is not yet that hard-fought!"
Zanox:
A hundred percent! Many cities in Germany, especially university cities, are very international. It is very easy to win native speakers of every country and with a little support you are relatively fast in a position to copy your business model over to other countries. If you finally understood that, it is just a question of translation and local adaptation – and then it works!
Affiliate.de:
Is this the first place topic, on which all the affiliates should launch?
Zanox:
Definitely. Globalisation is the key of growing at the moment, also for the affiliates. Just to get back again to the questions regarding the USPs: We also provide professional technical assistance, more and more in the direction of affiliates, too. In the direction of the merchants, we provide today from integration to compatibility for global businesses by far the most sophisticated system. By now, we support ten different languages on our platform – that is something which you won't find anywhere else. The possibility to carry out all relevant online marketing-arrangements with only one platform, is also unique in the world. Our newest innovation is the Zanox Developers Kit (ZDK). It is about web services, which put you in the position of developing your own programs and software. We provide standardised interfaces to work with while developing your own software tools. On this basis we came up with a developers program and presented it on the last exhibition in Shanghai.

We want to clearly address the global players of the software developers and to motivate them to design software, tools and plug-ins, which allow totally new forms of advertising. For me that is the future of affiliate marketing: we will be integrated in new devices and generations of hardware just by the interfaces we offer. There are many possible ideas, one simple example: a software designer develops a toolbar, which could be used for search and which has an interface to our system. He can spread this toolbar world-wide. Great for him. This form of cooperation is totally different than to put a banner ad on a website. It is about solutions, which go deep into the applications. Another example is a plug-in for Microsoft Word, through which you could build something like AdSense. But there are still some ideas missing. At the moment, we make an idea competition so we can produce some examples, with which the software community could be addressed and motivated to develop products in this direction.
Affiliate.de:
If somebody has an idea right now, who is he supposed to call, the hotline or the board of management?
Zanox:
They are supposed to ask for the Zanox developers program, then they can be registered. At the moment we are in a beta phase and there is a limited number of users.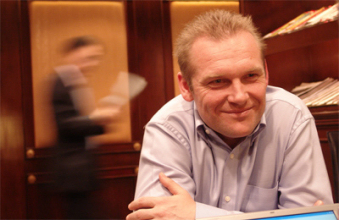 "With Zanox Look@ you can calculate for each keyword an optimal click price/bid - that's an unbeatable product!"
Affiliate.de:
What can you offer to SEOs and keyword advertisers that the other networks do not have?
Zanox:
Zanox "Look@"! This way you can organise the search engine management through more search engines. Up to now we only provided Look@ to search marketing agencies and we can now also provide it to our premium partners. At the moment we develop a special tool, which provides our affiliates with the functions they need and demand. One example: Zanox Look@ serves also for measuring conversion rates on a keyword level. Therefore, we have developed APIs (Application Programming Interfaces) for the individual search machines. With individual improvement algorithms it is possible to improve conversions. That brings the keyword advertiser in the position to calculate an optimal click price for every keyword based on the conversion, which is generated through this keyword and the money being paid for the sale or lead. Everything works fully automatically with an API to the search machine, you are able to upload and download the data and update your bids. By now, Look@ got to be an unbeatable top product for keyword advertising. We are about to design a SEM variant. We spoke again with different SEMs and established features, which are missing in the current solution. At the moment we implement the corresponding functions.
Affiliate.de:
Is Look@ accessible for everybody or do you have to ask specifically?
Zanox:
You have to ask for it. The basic idea of the product is clear, isn't it? Additionally: we spoke to the keyword advertisers and found out that they need two important functions. Many merchants wouldn't want the affiliates to link directly from AdWords to the merchants website. Google does not want it either. There needs to be an intermediate site (landing page) located on the affiliate's server, and then it could go on. Earlier the intermediate step led to a blind flight for the keyword advertisers because they didn't know if the first click on the ad really converted into a sale, which means they weren't able to track the click until the final sale or lead. We will now bypass the intermediate step, as we now also offer a tracking on their own site. They are able to track through from A to Z and see the conversion from the first click on. Secondly: The main motivation for the affiliates to operate is to earn money with keyword advertising. Up to now, the motivation for Zanox Look@ was to conduct as many search marketing as possible to get as many visitors as possible at a certain price. Now with the affiliates we have a new motivation: Not maximum traffic, but maximum earnings! It doesn't make sense to expend a 100% of the commission just to pay it as click fees to the search engines. The goal is to pay as less as possible and to get as much commission as possible. This aspect was non existent at Zanox Look@ before because it wasn't spirit and purpose of the product! We will enhance it in that direction to make it more useful for the affiliates.
Affiliate.de:
SEO's and keyword advertiser don't get those features anywhere else?
Zanox:
Correct. Just from us.
Affiliate.de:
Okay, back to the confirmation of new affiliates: to wait for activation after having applied to an affiliate program is annoying for the affiliates! Example: an affiliate has a terrific idea on Friday evening. The TV reports about his website on Saturday evening, on Sunday evening starts all the traffic and the affiliate also knows that it fits perfectly to the affiliate program "X". The application will be confirmed on Tuesday evening, so that's too late…
Zanox:
Yes I know. We are working on this issue. Two weeks ago we were in Innsbruck with the whole company to sum up ideas and to announce new strategies. One of the key messages in this year was to concentrate on the transaction. Also debated were problems of confirming applications of new affiliates and the general handling of the system. We noticed that we have indeed a lot of ballast, which grew historically and was historically kept, but is not really relevant anymore.
Affiliate.de:
The merchant could activate the partners first and then, if necessary, throw them out again. You can't know in the first place what he is going to do, anyway. He may apply with site A, but promotes the program through site B.
Zanox:
This application process is very annoying. This is one point, but there are a lot of other things. I think in the future we will provide two ways, one of which has to be an "easy way". For somebody, who is guided to the topic for the first time it is still extremely difficult to understand: What is this? How does this work? What do I have to do here? I have to get HTML-Codes from somewhere and have to implement them on my site, and so on. For the individual affiliate – and he plays a big part in the mass – everything is far too complicated. Not until a specific level do the people understand everything and how to use it. We already have some ideas for simplification in preparation, which are going to be realised soon.
Affiliate.de:
But you can't bypass the links, which have to be integrated…
Zanox:
Yes, true. But still it could be made much easier.
Affiliate.de:
How?
Zanox:
Just the handling, for example a system that asks: "Would you like to recommend something right now?" …and then you would be able to produce a recommendation mail, just like in our Mail@-Product by simply pushing a button. Without integrating something on your own site, just send the recommendation!
Affiliate.de:
Immediate activation is the condition for this! But the problem of activation lays on behalf of the merchants, not on Zanox's behalf. It would be okay for you if all affiliates would be immediately activated, or not?
Zanox:
Yes. It is already working for us. There is an auto-application, and then there follows an auto-confirmation.
Sometimes, you find something that is possible, but not obvious.. and that other people don't know yet - then you could laugh about it wondering yourself, why nobody else noticed this before...
Affiliate.de:
How many merchants trust in this?
Zanox:
I think 25% already do that.
Affiliate.de:
Zanox Shop@ is all but an auto-complete application to all programs with an auto-complete confirmation to all programs. But afterwards, the Affiliate has a shop and no individual links. Or can he extract the links to use somewhere else?
Zanox:
(Thinks, says nothing, laughs)
Affiliate.de:
Then everything is already there, isn't it…?
Zanox:
Theoretically, it does work.
Affiliate.de:
Do the merchants really know that all affiliates can apply them, due to Shop@?
Zanox:
Well, the programs can't be boundlessly applied by anybody. We do checks later on, even as there is the auto-confirmation.
Affiliate.de:
How does Zanox see Google AdSense? Minimising sales? A threat? Do SEOs escape from affiliate programs to AdSense? Do you feel it a little bit, honestly? Google AdSense is brilliant!
Zanox:
AdSense is brilliant and we participate in this. Zanox Look@ and in this sense keyword advertising is our biggest growth factor at the moment.
"AdSense ist great and we are participating in this trend. Zanox Look@ is our most important growth factor at the moment."
Affiliate.de:
Because behind Google AdSense is Google AdWords and behind this are often the affiliates and affiliate programs again?
Zanox:
Absolutely. In the end AdWords and AdSense are the basis for Look@ and we specialised on that. We are pleased with every new competitor, who offers a paid search engine or paid search platform. Because of this we keep our fingers crossed for MSN and everybody else, who is on their way with own systems. We recommend to provide an API as soon as possible, which we can then support. This way, we generate a perfect channel.
Affiliate.de:
So AdSense is not a threat then, but a Look@-Multiplicator.
Zanox:
Exactly.
Affiliate.de:
Would AdSense also not be a threat if every content affiliate would only embed AdSense and no affiliate program links or banners anymore?
Zanox:
In that case we would do everything over Look@.
Affiliate.de:
Do you have problems with spammers among your affiliates? You are the one who will be held responsible!
Zanox:
We have changed our general terms and conditions to that and we threat with hard consequences in terms of spam. There were definitely questions in the past because in principle the spammers are always identified through our tracking urls. And surely there have been people who did spam. I personally think this has been a reducing issue since.
Affiliate.de:
What do you think of affiliate marketing agencies? According to Zanox's website you seem to be very agency friendly. Some networks fear that agencies would steel affiliates from them or send them to other networks. Is Zanox pro or contra agencies?
Zanox:
Pro agencies.
Affiliate.de:
Are the affiliate programs better managed by an agency than by the merchant's company itself?
Zanox:
I wouldn't say that. There are really active merchants, who make more things on their own than some agencies can do and do. Some agencies make it too easy for themselves and think their job would be done when the program has been established. This is surely not the case. But altogether, we are very agency friendly. We definitely want to concentrate on our key competence, the technology, and would like to scale the business over agencies. We invest a lot into agencies and as far as I know, we are the only one in the market, who has a certification program for agencies, for merchants, and finally also for affiliates: our Affiliate Academy. That is surely a successful activity and we now practice an intensive communication.
Affiliate.de:
A critical point to the "key competence". Your competence won't be denied by anybody, but many speak about the Zanox's key incompetence "usability" and complain about the complexity of the sites. Have you heard about this criticism?
Zanox:
Yes sure. That is exactly what I said, that a lot of things need to become simplified. Especially for beginners, our system is very complex and unclear. From advanced users we do also get a lot of praise because we provide fully developed statistic lists, which make deep researches and analyses in every form possible. We certainly do not have a perfect system. But someone, who has not done anything with this topic before and comes to our site, has in my opinion no chance to handle it.
Affiliate.de:
You certainly do address technical adept Affiliates with your products, who can code and who want to analyse in detail. Is the top affiliate in the future more a designer or a mathematician.
Zanox:
(Laughing) More likely a mathematician.
Affiliate.de:
How high is the part of commission, which is generated by keyword advertising?
Zanox:
We measure the sales parts, which come from our five different products, but we canot analyse that. Especially we do not know in which form the affiliates adopt keyword advertiser, or especially AdWords.
Affiliate.de:
Let us rephrase that: Does SEO play a bigger role (links of the organic search results) or keyword advertising (Google AdWords)?
Zanox:
That is a good question! I think it is more keyword advertising. We can see that almost all SEOs changed their business model. Nobody is able to calculate with the search index anymore. It must have become so difficult to organise business related to SEO that the share of SEOs has increased since.
Affiliate.de:
How many employees does Zanox currently have?
Zanox:
120.
Affiliate.de:
How do you motivate academic employees with fixed salary, who watch how unstudied affiliates become millionaires?
Zanox:
We do a lot there. We go on winter holiday once a year with all our employees, have a developed Zanox Career System, monthly Happy Hour, pension plans, job missions abroad, a stock option program and many more things.
Affiliate.de:
Now hand to the heart: does it not lead to confusion, if somebody goes, after studying, to an affiliate network to earn 2.500 EUR fixed salary and Hans from Herford, Zanox affiliate and former police officer, earns 25.000 EUR per month?
Zanox:
(Laughs) Certainly, we have to expect that and we calculate it. Nevertheless, the people have great fun to work for us. We really have a terrific climate, a terrific team, and the girls and boys are all extremely motivated with the issue. Actually, we started an employee share option program. That way, we want to motivate the employees to be part of the big story.
Affiliate.de:
In your opinion, how will the existent networks differentiate in the future? You say your strength lays in the technology und its enhancement. But in the end it leads to the fact that the same merchants and the same commissions in all nets must be available. It has to be trifles, which make the difference, not only the technology…
Zanox:
From my point of view, there will be a consolidation.
Affiliate.de:
How will that look like?
Zanox:
All who do not achieve to position themselves internationally and to have a technology, which is able to handle global business, are not going to be there tomorrow. I am absolutely convinced of that, because our business is certainly a global one. The top player search for global service providers because they don't have nerves to work in 20 countries with 20 service provider and to manage 20 different systems. Just because of this, a global approach is essential. I think 80-90% of the networks world-wide, that do not achieve to expand globally, are not going to be there in 5 years. Those will simply be consolidated by providers like us or other big player. By now we look around, here and there, on the market and countries. That is the decisive factor, in my opinion.
Affiliate.de:
Do you have specific business goals for the next years? Or even better: what is the big vision?
Zanox:
Our next goal is to really advance as a global player. You can not yet say we achieved it. We are certainly on the right way, but there is still a lot to do. The big vision (thinks)… that will be indeed again technical. The approach with our development program, our web services and the programming interfaces helps to be available through more and more places and channels. The Internet will finally be available on every gadget, in every system. It is going to be the leading communication system. It is our claim to say: as soon as the Internet is available on one gadget, we want to provide the appropriate interface for it, so we can open up this channel for our client. Up to the point where you can order the leather jacket of James Bond out of the film. It is definitely going in this direction: to fulfil the consumers' wish in every situation. Because I am online, because I have permanently a gadget available, with which I can articulate myself. To offer the right technology for this, that is our business! It gets very utopian, if you enlarge the idea. There are already so many ideas and projects, which we gave a push to in the past; certainly not everything is accomplished, but building blocks always develop bit by bit and that is where I can see the true revolution of the commerce. The classical commerce is going to be completely revolutionised in the future, in my opinion. Also the justification, in terms of purchase, because you will see the purchase not anymore as a dispatch, which will be planned for a certain day during the week…
Affiliate.de:
…instead I am going to be content in the moment of the wish to consume. Through any terminal and Zanox link.
Zanox:
(Laughing) …and the consumer doesn't even know that we exist.
Affiliate.de:
And when precisely did you say is the 24/7 telephone support for Affiliates available?
Zanox:
It is going to be on the schedule very soon.
After a long night and a long interview we
went into the new...

...Hongkong Disneyland, just right to the Chinese New Year celebrations.
Thanks to Thomas Hessler for the interview, to Doris Wagner for the interview pictures, to André Moritz for typing the interview and to Andrea Stutz for translating it.